Ajman Shopping Mall Cooling Tower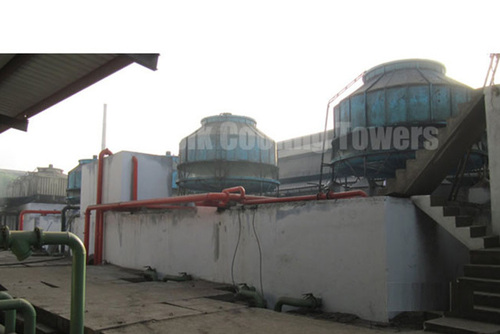 Ajman Shopping Mall Cooling Tower
Price And Quantity
Unit/Units

30000.00 - 200000.00 INR
Product Description
Shopping Mall Cooling Tower is designed with the support of our diligent team who induced draft design making them more efficient than others. They represent latest development using less power consumption per cooling ton. High quality of steel sheets, aluminium sheets, brass, alloy and nickel are used with the assistance of plastic technology.

We are Leading Manufacturer and Exporter of Cooling Towers in Ajman at United Arab Emirates.

Engineering Specification
Each cooling tower is manufactured to cool liters per minute of water from -----Degree Celcius (HW) e n te r in g w a te r temperature to -----Degree Celcius (CW) leaving water temperature at -----Degree Celcius (WB) entering wet bulb temperature.
The cooling towers are guaranteed to perform in accordance with the conditions specified without any modifications.
Structure
The Cooling Tower Casing Shall be constructed from FRP (Fibreglass Reinforced Polyester). Structure shall be constructed from HDG (Hot Dipped Galvanized) Steel.
Basin
The basin sump shall be constructed from HDG Steel. The basin shall be made of FRP and equipped with drain outlet for ease of cleaning.
Air Inlet Louvers
Air inlet louvers shall be made from FRP Designed to prevent water.
Louvers are designed to be easily removable intended for easy access to cleaning.
Infill
Infill shall be of ultra - violet ray treated PVC (Polyvinyl Chloride). The PVC infill shall be vacuum-formed to facilitate a good spread of water over the surface area. It also incorporate a built-in drift eliminator.
Water Distribution System
The hot water distribution shall be of open gravity type basin. It shall be constructed of HDG Steel designed with multiple array of holes to facilitate even distribution of stable water sprinkling effect.
Mechanical Equipment (Fan Section)
Fans shall be axial flow type with FRP blades. The fans shall be designed to provide necessary air flow for heat transfer. Fan blades shall be assembled, balanced and pitched. The fan shall operate within a FRP fan cylinder, which provides a streamlined air entry and minimum tip clearance for maximum fan efficiency.
Bolts & Nuts
All Bolts & Nuts shall be of 304 Stainless Steel material.
Motor
The fan motor(s) shall be to IP55 standard with Class F insulation, specifically designed for cooling tower service. The motor shall be located on top of the fan cylinder for ease of maintenance also available motor shall be fully outside of the moist discharge air stream.
Mechanical Support
The Mechanical Support shall be of HDG Steel and bolted to the top of fan cylinder. HDG Steel fan guard shall be bolted to the top of mechanical support for safety measure. Extended lubrication lines shall be provided to the bearings with grease nipples located outside for ease of schedule maintenance.


Trade Information
Asia, Australia, Central America, North America, South America, Eastern Europe, Western Europe, Middle East, Africa

All India