Square Shaped Cooling Tower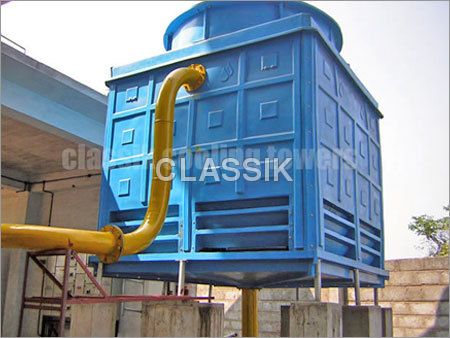 Square Shaped Cooling Tower
Price And Quantity
Unit/Units

30000.00 - 100000.00 INR
Product Specifications
Square Shaped Cooling Tower

Industrial
Product Description
Square Shaped Cooling Tower
We fabricate square shape cooling towers for all types of industries as per clients requirement. These towers cool the water flow (re-cycled water) from 10 M3/Hr to 500 M3/Hr and due to variation in shape it camouflages easily with architectural surroundings. The cooling tower brings difference in temperature from 40 C to 300 C, while the spray nozzles ensure uniform water distribution thus reducing annual operating cost. We ensure to design the nozzles in a manner, which makes it easy cleaning during operation.

Technical Function

Warm water from the heat source is pumped to the water distribution system at the top of the tower.

Water is distributed over the wet deck fill by means of large orifice holes of Spray nozzles.

Air is drawn in through the air inlet louvers at the base of the tower and travels upward through the wet deck fill opposite the tower flow.

Small portion of the water evaporate and removes the heat from the remaining water

Warm moist air is drawn to the top of the cooling tower by the fan and discharged to the atmosphere.

The cool water drains to the basin at the bottom of the tower and is returned to the heat source.